NUTRITION ADVICE FOR HANDBALL PLAYERS
handball is a team sport played in interpenetrated spaces with an alternating attack and defence where the rival teams go back and forth between the different territories. Therefore, it's an activity that requires intermittent efforts, involving a series of motor actions completed in a short, intense and explosive period composed of short repeated efforts for a period of training ranging from 1h to 1½h. A very complete sport for champions!
Nutrition therefore plays a key role in the running of the sessions. It's probably a key weapon for handball players. With a balanced and healthy diet, they can keep their energy levels topped up during the match and optimise their performance, as well as their physical recovery.
What's more, during a training session or match, hydration is crucial. Handball players will sweat a lot and the losses of water and sodium will therefore be considerable. This requires regular hydration to replenish the losses of water and minerals associated with the physical effort made.
Although this is not a general rule, it has to be said that many handball players find it hard to manage their diet and hydration on a daily basis. It's often a consequence of a lack of time and organisation associated with their professional, personal and sporting life. In short, it's not easy to be a sportsman or woman!
The objective of this article is not to impose restrictions, but to make life easier by giving you an opportunity to find the information you need.
Advice on the daily calorie intake:
Here is the recommended average daily intake (women and men) of the Dietary Reference Values (DRV): 
15% of protein
30% of fat
55% of carbs.
The DRV is an average benchmark of the recommended daily intake. This indicator represents the daily energy expenditure of an individual (male or female) with an average level of activity.
1/ WHAT SHOULD YOU EAT BEFORE A TRAINING SESSION OR HANDBALL MATCH?
Most adult training sessions take place in the evening (after work) from 8 pm and last about 1½h.
-> Before training, hydrate yourself!
To compensate for the future losses of liquids, drink 1 L of ambient still water or 1 L of sparkling water (if you can drink it).
To drink 1 hour before a physical effort and until the training session or match.
You can also add a little powder for isotonic drinks with the ISO.
-> To prepare to recover the glycogen that will be expended during the physical effort, you can eat a snack 1 to 2h before the training session or match.
Before training, you can have a quick snack:
- cereal bar (Aptonia offers a sweet and savoury range without gluten)
- protein bar (discover the NUTS Vegan protein bars or the standard "savoury or sweet" protein bars)
- stewed fruit (Aptonia Energy fruit mix)
- well-ripened fruit (banana, pear, apple)
- dried fruit (20 to 30 g, dried apricots, raisins, figs)
- 100% pure fruit juice
- 1 big portion of banana bread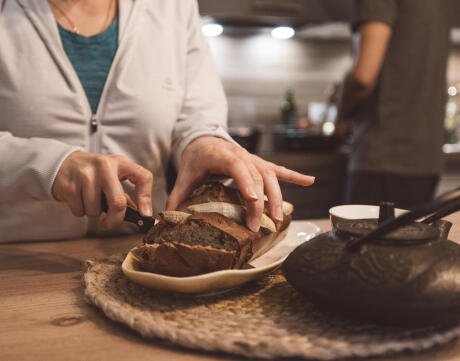 High-Protein Banana Bread recipe:
- 2 well-ripened bananas/200 g of fromage blanc (or Greek yoghurt)/2 tbsp of almond powder
- 50 g of Vanilla WHEY/ 3 tbsp of flour/2 eggs/cinnamon
- ½ sachet of baking powder/1 of vanilla-flavoured sugar/40 g of chocolate chips
Crush the bananas in a bowl and mix them with the fromage blanc. Add the flour, 2 eggs and mix everything together thoroughly.
Add the almond powder, followed by the cinnamon and the vanilla-flavoured sugar. Then mix the baking powder and vanilla whey (or replace the whey with the almond powder or flour). Cook in a mould in the oven at 170°C for 45 min.
Before the match, you can take the same aforementioned snacks taken previously and add those listed below according to your preference:
- Savoury sandwich with some turkey or chicken leg 
- Oleaginous (almonds, walnuts, cashew nuts)
- Bread with some dark chocolate
If the meal is before the match, it must be balanced, i.e. heavy food, that is difficult to digest such as fast food, pizza and other junk food, and fizzy drinks should be avoided.
What I mean by balanced is the following:
- a starter with some raw vegetables (and leguminous plants)
- a main dish: 1 protein + 1 carb + 1 vegetable
- 1 dairy product
- 1 raw or cooked fruit
- Spring water at ambient temperature
Example of a balanced meal:
- Salad with chickpeas, cucumber, tomatoes and onions
- Grilled chicken or turkey breast or a thick slice of salmon or other fish baked in foil or, for vegans: a vegan steak (recipe below)
- 1 portion of wholemeal pasta*, brown rice, sweet potato
- Pan-fried green beans
- 1 fromage blanc (Greek yoghurt)
- 1 banana
- Still water at ambient temperature and a coffee
*NB: wholemeal carbs are preferable given the nutritional benefits of their higher fibre and mineral content than refined carbs. They will be more slowly assimilated by the body because they contain more fibre. Consequently, the energy will be released progressively into the body, thereby delaying the delivery of the carbs.
Quick vegan steak recipe: 
- 265 g of cooked green or coral lentils
- 1 onion
- 2 carrots
- 1 tbsp of cornflour (12 g)
- About 5 tbsp of flour (60 g)
- Salt, pepper and spices
Chop up the onion and carrots and put them in the blender. Add the lentils, once they have been properly strained. Add the salt, pepper and spices.
Blend everything so that the lentils are in fine pieces (but not completely blended). Pour into a small salad bowl. Add a tablespoon of starch and mix. Then add the flour to get a purée-type consistency (by adding more if it is too liquid).
Form your steaks. Fry them in a little oil.
Handball players, who are going to play several matches in the day, must not hesitate to take snacks and drink plenty of water. It's important to be well-prepared and hydrate regularly to avoid dehydration.
2/ WHAT TO EAT DURING A HANDBALL MATCH
Most adult matches take place on Saturday in the early afternoon or evening. In general, handball players don't usually have a snack at the half-time of the training session or match. However if you feel the need, regardless of how long the effort is going to be, you can eat following:
- a fruit jelly that melts in the mouth and is quickly assimilated by the body (Energy fruit Jellies)
- a sweet cereal bar (Cereal bars or Gluten-free bars)
- a stewed fruit (Aptonia Energy fruit mix)
Naturally, the most important thing is to stay well hydrated to prevent any losses of water and sodium. So, hydrate yourself properly by taking small mouthfuls.
Depending on your need and how you feel, here are the drinks that I would recommend:
- Still water at ambient temperature
- Sparkling water that is cool, but not freezing
- Bicarbonated sparkling water (Vichy or St Yorre)
- Energy drink for a continuous release of carbs that delays fatigue (ISO isotonic drink)
3/ WHAT TO EAT BEFORE A TRAINING SESSION OR HANDBALL MATCH
After a training session or match, it's important to hydrate and quickly absorb calories.  This is achieved through:
- good hydration is needed to compensate for the losses of water and sodium, which prevent acidosis.
- good diet that will help the body to replenish its energy reserves enough to repair the muscle fibres and rebuild the stock of glycogen, so that you are ready for the next training sessions or matches.
How? depending on the intensity of the physical effort, you can take the following energy drink 45 minutes following the moderate activity:sweetened bicarbonated water. After a moderate to intense training session or match, you can take a high-protein recovery drink to rehydrate with a shake of Aptonia Recovery Drink (e.g. chocolate flavour).
Why? Because it sometimes takes a while to get back home. Asresult, some sportsmen and women eat relatively late, which is not a very good solution for the digestion before going to bed. That's why a small high-protein shake will provide the waiting ration you need to get to the next meal. This will hydrate the body and give it the nutrients it needs to avoid drawing on its reserves.
When you get home, you're dying for a good reassuring meal. Why not have a spaghetti carbonara? 
- Green salad, cherry tomatoes, shallots, olives.
- Spaghetti Carbonara (recipe)
- Fresh home-made fruit salad with bananas, apples and kiwi
- Herbal tea and still water 
Good Deal "Zero frustration" spaghetti carbonara":
- 150 g of wholemeal pasta cooked al dente
- 80 g lean bacon (cooked without oil)
- 80 g fromage blanc 0 to 3% fat
- 1 egg yoke
- Salt and pepper
Despite everything, you get a balanced meal: vegetables, carbs, protein, dairy, fruit and, naturally, hydration.
Whatever your level, you will have understood that, to maintain a high level of physical performance and quickly replenish your energy reserves and hydration, nothing is more important than nutrition and hydration.
And to make your life easier, why not put together your own little wish list? A set list of meals and snacks so that you can shop effectively and never run out of time.
No more excuses for not staying in shape!
Nutritionist dietician, sportswoman, horse riding enthusiast and horse rider.
Food lover, without restriction! 
"Eating healthily and training regularly is the best way to a balanced lifestyle".
* The prices listed on the site are the prices recommended by DECATHLON SA's central purchasing department.