ISOTONIC DRINKS: WHAT IS THEIR COMPOSITION?
Hydrating yourself during exercise is good, but hydrating yourself with an isotonic drink is even better! Isotonic drinks provides your body with everything it needs to make up for water, carbohydrate and mineral losses linked to exercise. But what are isotonic drinks made up of? What ingredients do they have in them? I asked Mathilde, the product engineer for hydration, to help me shed some light on the subject. We explain all!
Aptonia isotonic drinks, made in France, are made up of various elements:
- complex carbohydrates (maltodextrin) formerly known as slow sugars.
- simple carbohydrates (sucrose and dextrose) formerly known as fast sugars.
The mixture of these two types of sugars provides an ideal supply of glucose and fructose for athletes. On the one hand, the intake of complex carbohydrates (maltodextrin), consumed continuously, provides an adequate quantity of sugar to the body during exercise. On the other hand, the intake of simple carbohydrates (sucrose and dextrose), which are absorbed faster, provides a boost at every sip.
To find out more: Fructose (stored in the liver) is absorbed differently to glucose (absorbed in the blood). Glucose absorption is faster and this sugar is therefore used by the body more quickly. This means that athletes can absorb some of the sugars quickly, while some are absorbed over time. Therefore, they always have enough energy to last for the duration of the exercise session.
Acidifying agents add an acidic touch that boosts and balances the taste.
- Sodium for good water absorption and recovery of sodium lost in sweat.
- Chloride is a basic salt
- Citrate buffers the blood pH and therefore acidifies the body less during exercise. Combined with sodium, it also reduces the salty taste you can get with chloride. 
- Magnesium for the proper functioning of the muscles as it is consumed when muscles are contracted.
- Potassium to make up for losses linked to sweat.
- Selenium: an antioxidant that protects the cells against oxidative stress and is a component of some proteins.
Vitamin B6 helps reduce fatigue, vitamins B1, B2, B6 contribute to energy metabolism during exercise. Vitamins have antioxidant properties and our ISO drinks contain vitamins C and E.
Natural flavours are there to give taste (they are powders).
Derived from carrots (beta carotene) or beetroot.
You now know everything about Aptonia isotonic drinks! ISO and ISO+ drinks are made up of minimally processed technical ingredients to help endurance athletes to stay hydrated and live their training sessions and competitions to their fullest capabilities.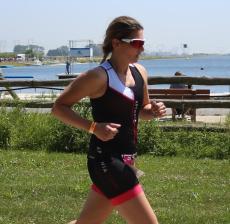 As a sport enthusiast, I did dancing for a long time before discovering triathlon, which became a real addiction right from my first race! I am a fan of Sprint and Olympic distances, and I like the variety that this sport offers both in terms of its practice and the environment in which I can grow. Triathlons offer interesting challenges to look forward to with pleasure as the key!
* The prices listed on the site are the prices recommended by DECATHLON SA's central purchasing department.